Commercial or residential, new homes or old, large or small projects, JM Landscaping is there to help you with a full range of services.
We have decades of experience designing and installing lawns and gardens, foundation plantings, walkways, patios, terraces and walls in a variety of materials.
We can make your new business property more attractive. We can resurrect neglected gardens or create exciting new ones. We can help eliminate drainage problems or decide what to grow (besides weeds) in your back yard's poor soil. We have solutions for that bank that's too steep to mow, the hedge that's out of control.
Just built a new home? Unsure of what to do with the site? Thinking of redesigning the landscape of an existing home? Let us help.
We can design and draw up a plan for you. We can install it, or you can begin installing it yourself with plants from our nursery.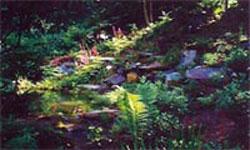 Add to your own daily enjoyment and enhance the value of your home by having that patio, arbor or pond that you always dreamed about professionally installed!
JM Landscaping Nursery & Garden Center:
KNOWLEDGE • EXPERIENCE • CRAFTSMANSHIP
JM Landscaping in Bradford, Vermont
Website design ©2012
CustomSUPPORT
Comments about this site? Contact:
Webmaster
All Rights Reserved. Unauthorized use or duplication prohibited.